Readily available across the country, propane is an affordable and popular energy source for American businesses and residencies. Propane is harvested from natural gas and petroleum, and about 90 percent of propane is produced here in the United States, which makes it readily available. In fact, Americans consume over 121 billion gallons of propane annually, using it for heating water, drying clothes, cooking, heating, cooling, and even powering standby generators. With so many uses for this readily accessible, environmentally-friendly fuel source, you may want to fuel your home or business with propane. If you live in upstate New York, DiSanto Propane is your most reliable source of propane. Today, we would like to discuss the advantages of hiring DiSanto Propane for your propane services.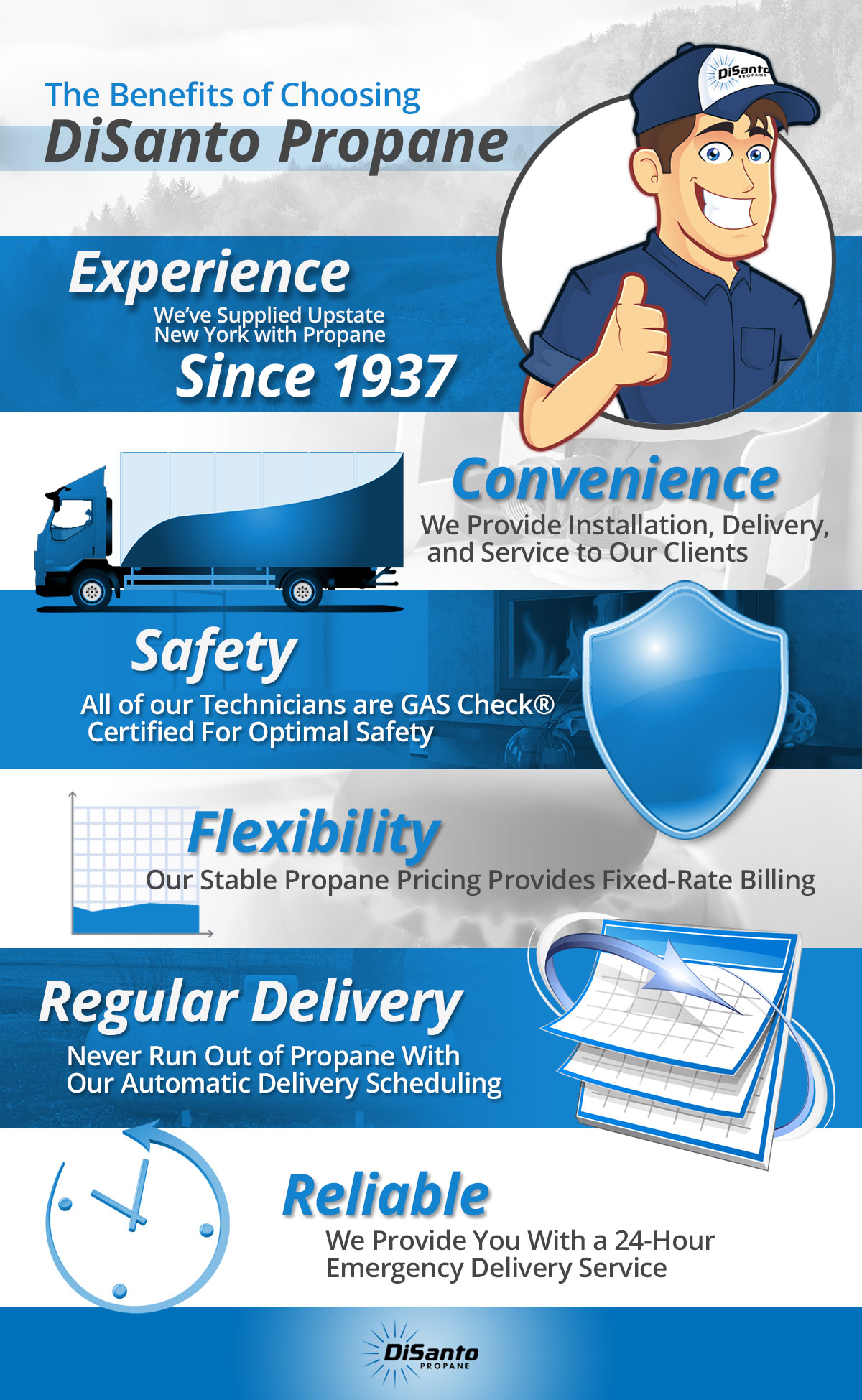 Family-Owned and Operated
Since 1927, DiSanto Propane has serviced both businesses and residences in upstate New York. We are a fourth-generation family-owned business with an extensive propane supply and delivery network.
Our Services
With DiSanto Propane, we can take care of every aspect of your propane needs. For our propane clients, we provide installation, delivery, and service. If you are a construction company, we can provide you with temporary heat services as well.
Customer Conveniences
In today's fast-paced society, convenience is more important than ever. Some of our customer conveniences include online account management, automatic delivery services, 24-hour emergency delivery, pre-buy plans, and field service and repair. With our automatic delivery services, you'll never have to worry about running out of propane again.
Customer Satisfaction
If you have any questions or concerns about our propane services, contact our friendly and knowledgeable customer service representatives at (800)752-4574 during our business hours. Our DiSanto Propane energy consultants are happy to hear from you and provide you with valuable information about our propane services.
Fixed-Rate Services
If you are concerned about fluctuating propane prices, then we have the perfect solution for you. We've added a fixed-rate system, Stable Propane Pricing, so that you pay the same rate throughout the year. Never worry about a surge in propane prices when you need them the most.
Propane For Home
A variety of different areas in your home can be fueled with propane, including your kitchen appliances, clothes dryer, water heater, and generators. In fact, many people prefer fueling their kitchen stove top and oven with propane instead of electricity. Propane gas heats up and cools down much quicker than their electric counterparts, making cooking more convenient than ever.
Propane For Business
Propane energy helps fuel a variety of different industries, including stores, construction, wineries, restaurants, hotels, and farms. A significant portion of industrial businesses use propane to fuel their forklifts. Some school buses operate on propane energy, which is the number one alternative fuel source in the automotive industry. Almost 900,000 agricultural operations use propane as an affordable, reliable, and environmentally-friendly energy source.
Are you interested in fueling your home or business with propane? Call our customer service representatives to get started today. We'll make the entire process as easy and convenient for you from start to finish. Contact DiSanto Propane today for your propane services in New York.