Since 1937, DiSanto Propane has provided energy to the residents of Upstate New York. Considered one of the most versatile sources of energy, over 60 million Americans use propane as an energy source. In fact, Americans consume over 121 billion gallons of propane each year. Have you considered using propane as an energy source? You can use propane for cooking, heating water, drying clothes, barbecuing, heating and cooling your home, and powering your standby generators. Today, we would like to discuss the benefits of using propane as a residential source.
Efficiency
Were you aware that anything in your house that currently runs on electricity could run usHOing propane? The fuel prices from the US Department of Energy show that the cost of electricity is over twice the cost of propane. Utilities can take up a huge chunk of our monthly expenses, so why not lower your energy costs by switching to propane?
Readily Available
Propane comes from natural components such as natural gas and petroleum, which is readily available within the United States. About 90 percent of propane used in the US is produced in our country. Under pressure, propane transforms into a liquid, making it it an energy source that can be used anywhere. Unlike natural gas mains, propane can be transported to many different areas.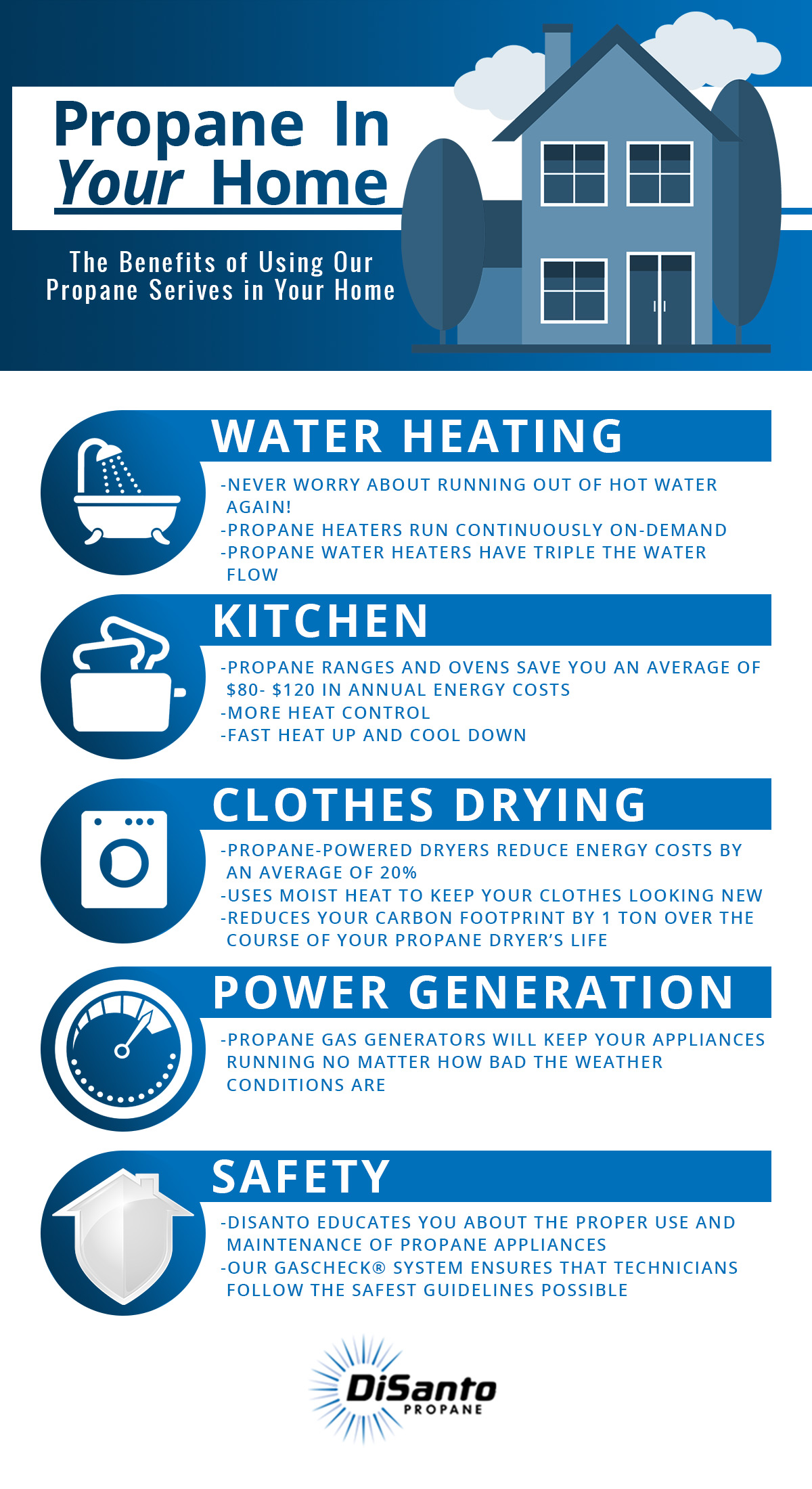 Convenience
Not only does DiSanto Propane install and service your home with propane, but we also deliver propane directly to your home. With our automatic delivery scheduling, you'll never have to worry about running out of propane again. We also provide 24-hour emergency service so that you can always feel secure. Propane tanks can last up to 40 years, so you won't have to worry about replacing them.
Environmentally Friendly
Considered a green energy source, propane use helps to cut the amount of emissions and protect the environment as an alternative energy source. Both the Clean Air Act of 1990 and the National Energy Policy Act of 1992 approve the use of propane as an alternative fuel. Nontoxic and water-soluble, propane also releases as a gas, which means that it doesn't pool, spill, or leave a residue. Propane exhaust emits about 60-70 percent less hydrocarbons than gasoline and cuts benzene and toluene emissions by up to 96 percent.
Safety
The propane industry and the National Fire Protection Association (NFPA) have created stringent codes and regulations to ensure that propane use is safe as possible. DiSanto takes our approach to safety a step further with our GasCheck® system. This system follows guidelines for technicians to use for residential safety inspections. An entire safety process is performed during the gas delivery process, called the "Gas System Check." We also educate homeowners on the proper use and maintenance of propane appliances.
With so many benefits of using propane as an energy source in your home, what are you waiting for? Call DiSanto today to learn more about the propane services that we provide here in Upstate New York. Our family-owned and operated propane company has serviced New York for over 80 years.