Using propane to fuel your business could be one of the best decisions that you will ever make. Not only is propane safe but it's environmentally friendly as well, and about 90 percent of propane is produced within the United States. When you choose to use propane, your appliances will run more efficiently than they would on electricity and oil. Propane also burns cleaner than fuel oil and meet the standards for clean air dictated by the EPA. Di Santo Propane provides propane for a variety of New York businesses, including restaurants, hotels, retail, new construction and vineyards. Today we would like to discuss some of the advantages of propane for different commercial interests.
Forklifts
Forklift operations benefit greatly by using propane to fuel their fleets because of its efficiency. Propane costs almost half the price of gasoline, and you will never have to worry about it getting stolen. Additionally, propane includes lower life-cycle costs than other types of fuel. When you use propane to power your forklifts, they usually last twice as long as gasoline-powered forklifts and they have lower maintenance costs. Propane delivers excellent results for your forklifts and only takes 10 minutes to refuel so that you will not lose valuable time.
Builders And Contractors
Here in Upstate New York, the weather can be harsh and unpredictable, and builders often turn to DiSanto propane to provide them with heat. Often, builders need a temporary heat source for a variety of jobs or they are creating homes to run on propane. No matter what job you need propane for, DiSanto propane provides thorough consultations for your propane needs, including installation for tank placement, running pipes and more. Our number one priority as a propane supplier is propane safety to ensure that your employees and business interests are protected. When you use our propane services, we will create a personalized propane delivery schedule that meets the time frame of your specific job.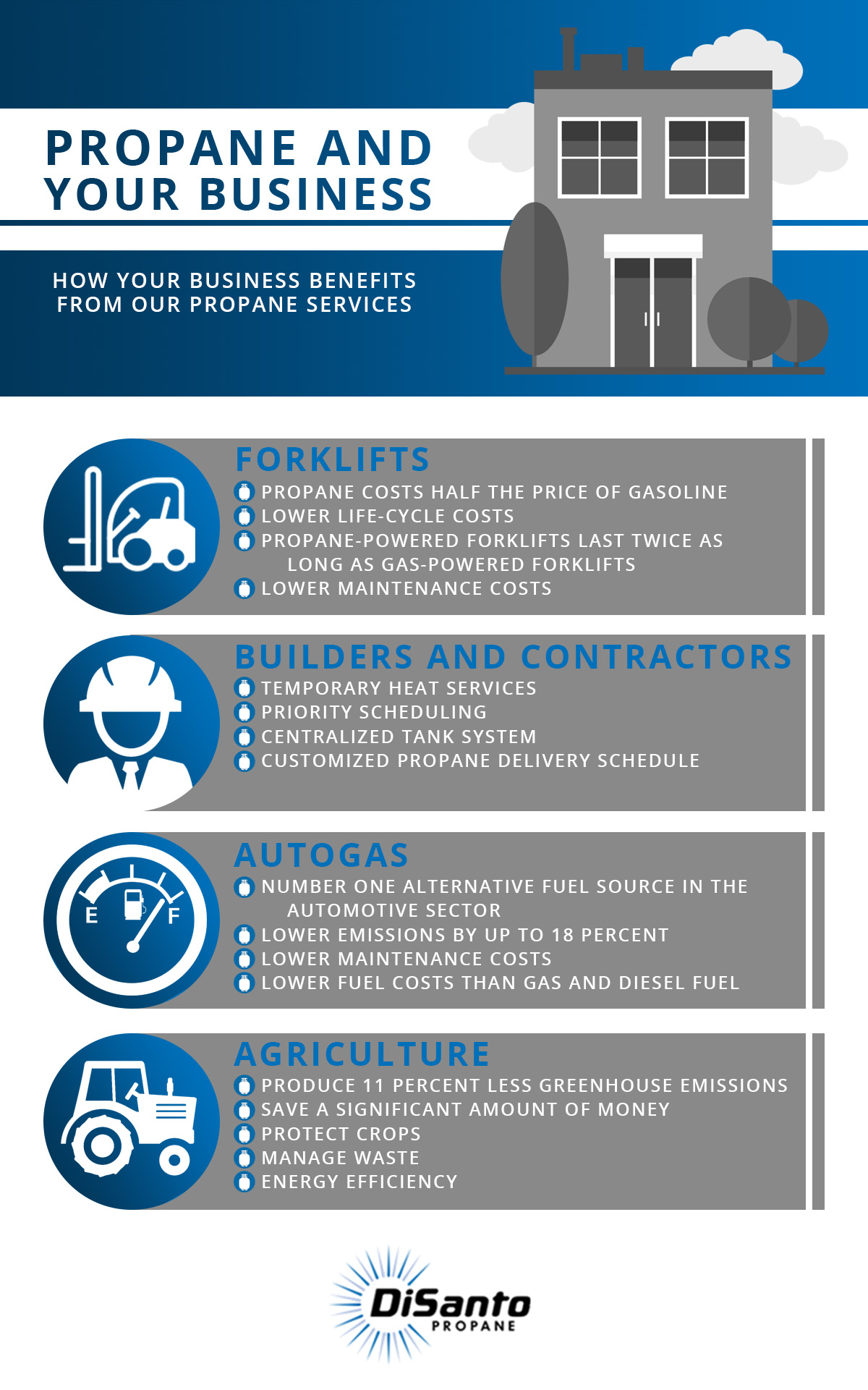 Autogas and Fleet Fueling
The number one alternative fuel source in the automotive sector is autogas, which DiSanto proudly supplies. By fueling your vehicle with propane autogas, you will lower your emissions by 18 percent, lower your vehicle maintenance costs, and save a significant amount of money compared to gas and diesel fuel costs. In fact, school districts are using propane autogas to fuel their school buses to save money and to run lower emissions.
Propane For Agriculture
Over 900,000 US farms choose to use propane to fuel their agricultural operations because it is a clean, reliable and efficient source of energy. By using propane to run heat year-round, farmers save a significant amount of money while emitting 11 percent less greenhouse emissions than running on other types of fuel. Additionally, propane can manage waste, fuel engines, and help to protect their crops.
With so many benefits of using propane, what is your business waiting for? Choose DiSanto Propane for your propane services in New York. Serving the Upstate New York area since 1937, DiSanto Propane is a family-owned business that has developed strong relationships with our customer base. Contact us today for propane delivery and other propane services.